BLITZ SCHNELL!

Join Date: Oct 2005

Location: East Bay Area, CA, USA

Cars: Current: '98 M3/2, '98 323is. R.I.P.: '95 M3/2

Posts: 177
I love my UUC Evo III short shifter. I got it with the DSSR as well. I also got a weighted UUC shift knob which really gives it nice throw as well. And you're right... they really were helpful when I called them prior to purchasing it. UUC is really top-notch in my book. The above setup is worth every penny and because of that, the price was not a concern to me. I mean, it's going in an M3; why fool around?

__________________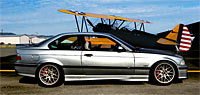 Hi. My name is Marco and I'm addicted to driving fast. Forum responds in unison, "Hi Marco".
'98 M3 mods: BBS RC wheels, Stoptech Big Brakes, H&R coil-overs, UUC adj. rear control arms, UUC SwayBarbarian with welded reinforcements, UUC Evo 3 short shifter, UUC DSSR, UUC shift/e-brake knobs, UUC lightweight flywheel & clutch, UUC steel clutch line, adj. camber plates, JTD rear shock mounts, TMS upper monoball control arm bushings, Autopower rollbar with custom fabricated feet, sunglass holder delete mod for VDO gauge cluster, B&B Triflo exhaust, ECIS cold air intake, UUC tranny bushings, BMW Motorsport front strut brace, rear strut bar, X-brace, Sparco seats/belts, ellipsoid headlights.
Tracks driven: N�rburgring, Laguna Seca, Sears Point, Thunderhill