| | |
| --- | --- |
| Make: | BMW |
| Models: | All E30, E36, E46 |
Rear Shock Mounts
These E46 rear shock mounts fit all E30, E36, and E46 vehicles!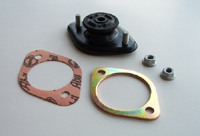 The rear shock mounts, combined with the firmer tuned suspension, resulted in a "clunking" sound that typically indicated that the rear shock mount needed to be replace. The metal insert of the shock mount would tear out of the factory mount, allowing too much movement, which results in a "clunking" sound when traversing over small bumps. Fortunately, the fix is very inexpensive which any qualified mechanic (or backyard mechanic).
In the past, the E30 Convertible rear shock mounts were common upgrades for all E36s since they were beefier (to handle the additional rear weight of the convertible). However, as newer BMWs come out, BMW continues to improve their parts. The new E46 convertibles have upgraded rear shock mounts which, interestingly enough, are spec'd on the 2001 E46 M3. Fortunately, the price of this upgrade is very affordable.
A benefit of these OEM BMW shock mounts is that unlike racecar-type rear shock mounts that use spherical bearings, rock-hard polyurethane, or even gimmicky versions with replaceable bushings, they maintain the original factory ride without harshness. Their improved design makes it perfect for those looking for longer lasting rear shock mounts for daily drivers or even tracked cars.
Here are a list of parts which you need for the complete upgrade. Notice that there are some required, recommended, and optional parts that are available. The recommended parts typically need replacing because they are one-time use parts (like locknuts or gaskets). The optional Z3 reinforcement plates allow for a more secure mounting of the rear shock mount to the actual tower (instead of simply two nuts holding it in place.
These parts should be purchase from a BMW dealer.
UUC Motorwerks does NOT offer these parts for sale.
Item
Qty
Part Number
Retail Price
Notes
E46 Rear Shock Mounts
2
#33 52 6 754 096
$18.40/ea
Required
Self-Locking Collar Nut
4
#31 33 1 092 887
$0.55/ea
Recommended
Washer Gasket
2
#33 52 1 128 734
$0.43/ea
Recommended
Self-Locking Hex Nut
2
#33 52 1 137 360
$0.42/ea
Recommended
Z3 Reinforcement Plates
2
#51 71 8 413 359
$14.40/ea
Optional

Total Cost

$36.80-$69.50*
* Many BMW dealerships offer discounts for BMW CCA club members up to 25% off list prices. Individual discounts may vary.