| | |
| --- | --- |
| Make: | BMW |
| Models: | E36, E30 M3 |
Transmission Mount Upgrade
A complaint about E36 M3 owners who explore the limits of their cars at the track and on the street is the movement of the transmission during turns. In the effort to create a balance between performance and comfort, BMW specified engine mounts and transmission mounts which are a compromise to both. BMW does offer upgraded engine and transmission mounts (referred to as Groupe N), but they do increase the amount of interior cabin noise beyond acceptable, as well as costing approximately $1000, not including installation.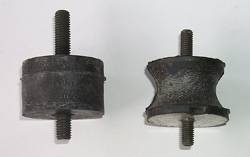 A relatively inexpensive alternative to the BMW Motorsport Groupe N parts is the use of some alternative, factory BMW parts. Upgrading the transmission mounts is a very easy, effective upgrade which doesn't have to cost hundreds of dollars. In the picture, you will see a stock E36 M3 transmission mount on the right, and a stock 320i transmission mount on the left. Notice how the one on the left is cylindrical in shape, without the hourglass profile. It's wider profile and harder rubber does a better job of combating the transmission from flexing side-to-side. Recent laboratory test show that the 320in mount deflects 24% less (firmer) over a stock E36 M3 tranny mount. Added with the UUC Motorwerks Tranny Mount Enforcer (found in the products section), it can make the 320i mount deflect 38% less than the stock E36 M3 tranny mount without additional cabin vibration.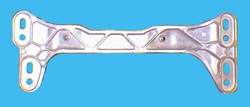 Only minor modifications must be made to the transmission support brace when upgrading to the larger, beefier mount. Specifically, the stock transmission mounts have a 8mm studs at either end. The 320i mount uses 10mm studs. Therefore, the holes where the mounts are located must be enlarged to accept the new stud size.
Note that there are some differences between E36 cars and their respective transmissions. Therefore, please see the chart below for the appropriate, upgraded mount for your vehicle.
| | | | | |
| --- | --- | --- | --- | --- |
| Model Year | Model | Upgraded Mount | Retail Each | Note |
| '95 to '99 | M3 | #23711175424 | $15.60 | Need four (4) M10 nuts. Holes on tranny mount require enlarging. |
| '92 to '99 | All 318 | #23711137817 | $10.50 | Hardware from stock mounts can be used. Tranny mount does not require modification. Larger mounts will not fit in transmission mounting location. |
| '88 to '91 | M3 | #23711130400 | $13.30 | Need four (4) M10 nuts. Holes on tranny mount require enlarging. |
Feedback from racers say that shifting becomes more precise since the transmission is not oscillating back and forth as much before. A worthwhile upgrade considering a missed shifted can cause a lot more damage to your engine and your wallet.
Installing the new transmission mounts does require accessing the underside of the car, so be sure that you use appropriate tools and equipment when attempting this upgrade.
Contributed by Bob Stommel.